Find out everything you need to know about our new building consent system.
New system for online consent applications available from March 6, 2023
General information
From March 6, 2023 customers will apply for a building consent through Objective Build, a new service designed to create consistency, transparency, and quality in building applications.
This new system has been built after interviews with over a hundred builders, architects, designers, and industry professionals across New Zealand to ensure it meets their needs. It improves the ability to reuse information across applications, clearly see the status of a building consent application, action required updates, and manage a building consent throughout the lifecycle.
The online platform is the first release of Objective Build, which aims to create a complete building consenting system for New Zealand. The platform will connect seamlessly to backend council systems, allowing New Zealand to work across a single platform. Building and Construction industry professionals will have one account to handle all applications, for each council they currently interact with.
More information and how to apply online is available here.
What is different?
The image below shows the difference between Council's past processes, and the changes with the new system we are using.
You can download a PDF copy too - Online Consents - Past vs. Current.PDF
Getting Started with Objective Build
To minimise any disruptions to you, we have migrated all active building consents (CCC not yet issued) into the new system. If you have applied for a building consent in the past, you will have received an email asking you to register for Objective Build. If you did not receive and email from Hutt City Council, you can register using your email address.
Please note: any applications that were submitted to Council prior to go-live will need to be managed through to accepted state in the old system.
You can see Council's process for managing consents through this transition period in the image below.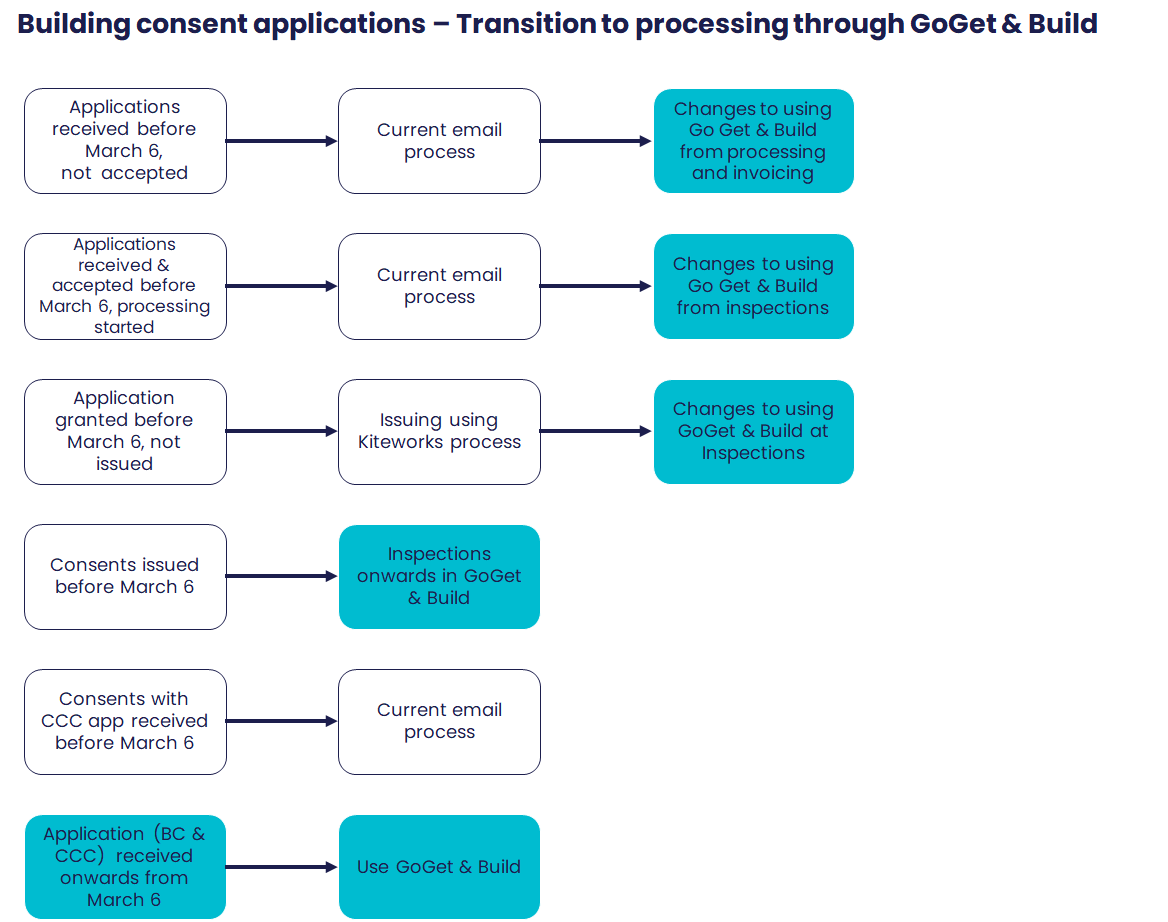 Support using Objective Build
To help you get started with Objective Build, we have some short videos, you can access here. They'll take you through the key functionality and common tasks you might want to complete. We have also developed a guide for first time users.
If you run into any issues, or have any questions, Objective's support team are available Monday to Friday from 8am to 6pm. You can reach them at the below details.
Past Stakeholder Sessions
Stakeholder information sessions were held the week of February 13, 2023. If you were unable to attend but would like to learn more about Objective Build you can select from any of the options below:
View short, easy to follow tutorial videos on the Objective website:
https://nz.objective.com/resources/tutorial-build-application-management-platform
Watch a recording of one of the Stakeholder sessions:
---