Published: 26 August 2023
It's International Dog Day! And what better way to spend it by celebrating all the wonderful dogs here in Te Awa Kairangi ki Tai Lower Hutt. It's also the perfect time to thank our wonderful Animal Services team and acknowledge all the amazing mahi they do within our community.
In 2022, the Animal Services team found new forever homes for 24 rescued dogs. But it's not only dogs being re-homed; they've also assisted pigs, rams, lambs, sheep, goats, chickens, a rabbit, and a budgie, all outside of their usual scope. In addition to helping our furry friends, they work hard on educating our community about dogs and how to be a responsible dog owner, visiting schools and homes when advice or guidance is needed. Another big part of their job is making sure dog owners meet their respective compliance to make sure they are responsible dog owners.
So, a big thank you to the Animal Services team for all your hard work! You can keep up to date with all their amazing mahi on their Facebook page here.
Now, to help us celebrate International Dog Day, we asked employees here at Hutt City Council to showcase some of their furry whānau members – meet them below.
Hester and Zelda
Meet Hester and Zelda, reluctant sisters but secret besties. Hester (AKA mini or pretty) is a stately, eleven-year-old beagle, who loves to collect smells on lengthy walks, bark in (and at) the rain, and tear up tissues. Zelda (AKA ratty or stickfast) is her "little" sister, a two-year-old GSP/vizsla, who loves to cuddle, do zoomies around the back yard (and the living room), and pick on Hester. Hester's greatest fear is the vacuum cleaner, and Zelda always protects her from it by biting and barking at it. Zelda fears new people, headlights on cars, ringing telephones on the TV, candles, and any volume of water (including her own water bowl). They love to explore together, so for International Dog Day, they will track some scents on a long walk on the riverbank, have a good play of tug-o-war with each other, and finish off the day with a nap together on their favourite yellow cushions.
Lucky and Milo
Meet Lucky (aka The Luckster or Lucky Lamonte) and Milo (aka Muzzy McCracken) – two 'Schnitzel von Krumm' lookalikes who are half miniature Dachshund and half Australian Terrier. Sisters from the same litter, they're now 10 years old although Milo still looks and behaves like an over-excited puppy. They love their beach walks and paddling in the sea – Lucky, having a few more layers than Milo, goes in everyday even in the middle of winter. They get way too many treats, but it's hard to resist those beseeching brown eyes. They've even managed to wrangle their way into sleeping with their owner under the duvet in winter! Their biggest hatred is the vacuum cleaner – as soon as they hear it come on, they run under the house and won't come out for hours. This International Dog Day, they'll get lots of treats, followed by a walk with plenty of sniff stops.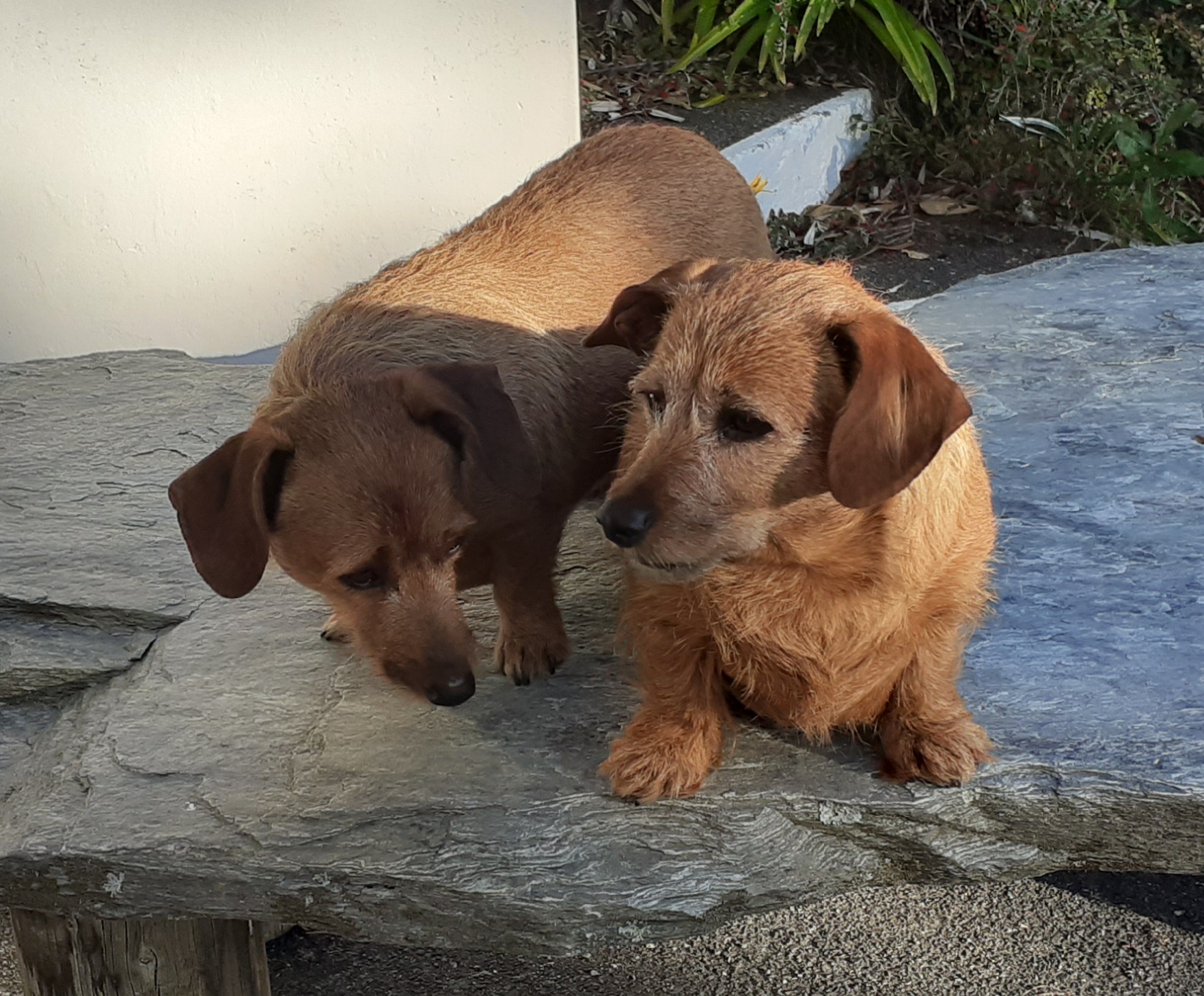 (Milo left, Lucky right)
Bobby
Bobby is a 17 month old Border Collie girl. Bobby's favourite past time is tramping in the Ōrongorongo Valley with her Mum. She doesn't like wearing a coat in the rain and prefers getting wet. She has been through the DOC Kiwi aversion training program and is kept on a leash to ensure the safety of the approx. 150 Kiwi that live there. Bobby will be rolling around in muddy puddles and playing fetch till she drops on International Dog Day.
Radar
Meet Radar – a guide dog in training.
Radar is a Golden Labrador and is 15 months old. His family volunteered to be guide dog puppy raisers, with Radar joining their family when he was 12 weeks old. They have had the pleasure of looking after and training him by taking him everywhere until he was old enough to enter formal training at the Blind Low Vision NZ Guide Dog Training Centre in Auckland.
Radar is a loving and generous puppy who loves to play but is also extremely cuddly and always wants to be close by people - he doesn't like being alone!
He started guide dog training 4 weeks ago so will be spending International Dog Day as a guide dog in training. Providing he makes it through training (which takes about 4 months), he will provide amazing support to someone who is blind or has low vision.
Bonnie and Ralph
Introducing the dynamic duo, Bonnie and Ralph!
Bonnie, the Border Collie X, joined her family's pack in 2021 through Ellie's Canine Rescue. With a brain as sharp as her energy, she's the queen of understanding commands and seizing the day. From energetic walks to chasing possums, she's a free spirit who marches to her own rhythm. Sometimes her ears take a backseat when she's on a mission!
And then there's Ralph, the charming Golden Retriever sidekick. At just 18 months old, he's a smiley bundle of joy on a mission for pats. Ralph's superpower? Retrieving, of course! From balls to undies, nothing escapes his grasp, especially not a chance for playtime.
Their friendship journey might have had a few bumps, like when Ralph sneaks in for Bonnie's pats or crashes her relaxation mode, but they're inseparable now.
For International Dog Day, Bon's and Ralphie can expect some ultimate pampering! Expect paw-some walks (their favourite is the Gum Loop track in Wainuiomata), licks from their cat brother Reggie, and maybe even some extra-special treats to top off the celebration.
Kobi - In loving memory - 20 June 2014 - 24 August 2023
Kobi is a nine-year-old Huntaway/Border collie cross. He's extremely cuddly and could snuggle and get tummy rubs for hours. He loves to eat - the only food he doesn't like is spinach. He's very good at letting his family know when people arrive thanks to his loud huntaway bark, and he loves to play "chase me around the playground". He doesn't understand that other dogs aren't sheep and aren't meant to be herded, but his family love him for his very sweet and loving nature.
Hugo
Hugo is 9 years young, and he is an Akita. Akitas were initially breed for hunting. He is a good, big, old boy and likes chicken and scratches under the chin. He doesn't like getting wet but does like being blow dried. He will be spending International Dog Day having smooches, treats, and tickles under the chin.
Lottie Loo
Lottie Loo (or Lulu) is a 6-year-old black Labrador who likes the finer things in life. Her favourite things include stretching out on the queen-sized bed in the spare bedroom, moving from a sit to lay down position in a split second to maximise the potential for tummy rubs, jumping on the school bus with her friends out to Welly Dogs Pack School on Mondays and Wednesdays, and lastly protecting her family at all costs by barking at any living/moving thing that walks past her household.
She doesn't have many, but her dislikes in life include getting her precious paws wet when it's raining outside, the ginger cat that lives directly across the street who likes to taunt her by sitting in front of her favourite view outside, and last but certainly not least, not being able to lick the plate after her human has finished any kind of food they have eaten.
Every day is International Dog Day in Lottie's world. We're all just living in it.
To contact us about an animal related issue;