Find out when the 2022 Local Government Elections will be held and how to vote.
---
Key Dates
Date
From 13 July
Elections will be advertised and nominations called.
15 July
Candidate nominations open.
12 August
Candidate nominations close at midday.
12 September
Council Candidate Kōrero and Lower Hutt Mayoral Debate
16 September
Voter packs mailed out.
Voting opens.
8 October
Voting closes at midday.
Progress result released during afternoon.
by 13 October
Official result released.
Guides with general information about the 2022 local elections in accessible formats have been developed for people:
with low vision
who are deaf
with reading, learning or intellectual disabilities
Elections will be held for
Mayor of Lower Hutt
1 Western Ward Councillor
1 Harbour Ward Councillor
1 Northern Ward Councillor
1 Central Ward Councillor
1 Eastern Ward Councillor
1 Wainuiomata Ward Councillor
6 City-Wide Councillors
Eastbourne Community Board - 5 members
Petone Community Board - 6 members
Wainuiomata Community Board - 6 members
3 Members from Lower Hutt
2 Members from Lower Hutt
At the 2022 elections, voters will decide which electoral system will be used for Hutt City Council elections in 2025 and 2028. The choices are first-past-the-post (FPP) or single transferable voting(STV).
The Local Electoral Act 2001 provides the two options for Councils to use. Hutt City Council decided in September 2020 to hold a poll during the 2022 local elections, to determine which system voters in Lower Hutt prefer.
Read more about the Electoral System Poll.
Voting
Voting Pack Deliveries - updated 22/09/22
Voting packs for the local elections should have been received by Wednesday 21 September. If you have not received your voting pack please see the information below about casting a special vote.
Voting Returns
View the voting returns for Lower Hutt on electionz.com.
Special Voting
Special Voting runs from Friday 16 September 2022 to midday on Saturday 8 October 2022.
Special voting booths will be available at the following locations for electors to vote in person:
Location
Hours available
16 September - 7 October
Hours available Saturday 1 October
Hours available
Saturday 8 October
Council Main Admin Building
8am - 5pm Monday to Friday
(excludes Monday 26 September)
Not available
9am - 12noon
Koraunui Stokes Valley Community Hub
9am - 5pm Monday to Friday
(excludes Monday 26 September)
Not available
Not available
Walter Nash Centre, Taita
9am - 5pm Monday to Friday
(excludes Monday 26 September)
9am - 3pm
9am - 12noon
Wainuiomata Community Hub
9am - 5pm Monday to Friday
(excludes Monday 26 September)
10am - 2pm
9am - 12noon
Special voting will also be available at Wainuiomata Marae on Wednesday 5 October, 10am - 2pm.
Ordinary Voting
Ordinary votes may be posted or dropped off in the orange ballot bins at any of the following locations:
Council Main Admin Building, 30 Laings Road, Central Hutt
Eastbourne Community Library, 38 Rimu Street, Eastbourne
Koraunui Stokes Valley Community Hub, 184 Stokes Valley Road, Stokes Valley
Moera Library, 107 Randwick Cres, Moera
Naenae Community Hub and Library, Hillary Court, Naenae
Petone Community Library, 7 Britannia Street, Petone
Wainuiomata Community Hub, 1A Queen Street, Wainuiomata
Walter Nash Centre, Taine Street, Taita
War Memorial Library, cnr Queens Drive and Woburn Road, Central Hutt
Benedict's Café, 141 Dowse Drive, Maungaraki (only available Monday 3 October - Friday 7 October)
Queengate Shopping Centre, 1st Floor, Central Hutt
Te Pokapū Hapori Community Centre, 105 Manners Street, Central Wellington
Wellington Railway Station, 7:00am - 9:30am, Monday - Friday, from Tuesday 27 September - Friday 7 October
Wainuiomata Marae, 10am - 2pm, Wednesday 5 October only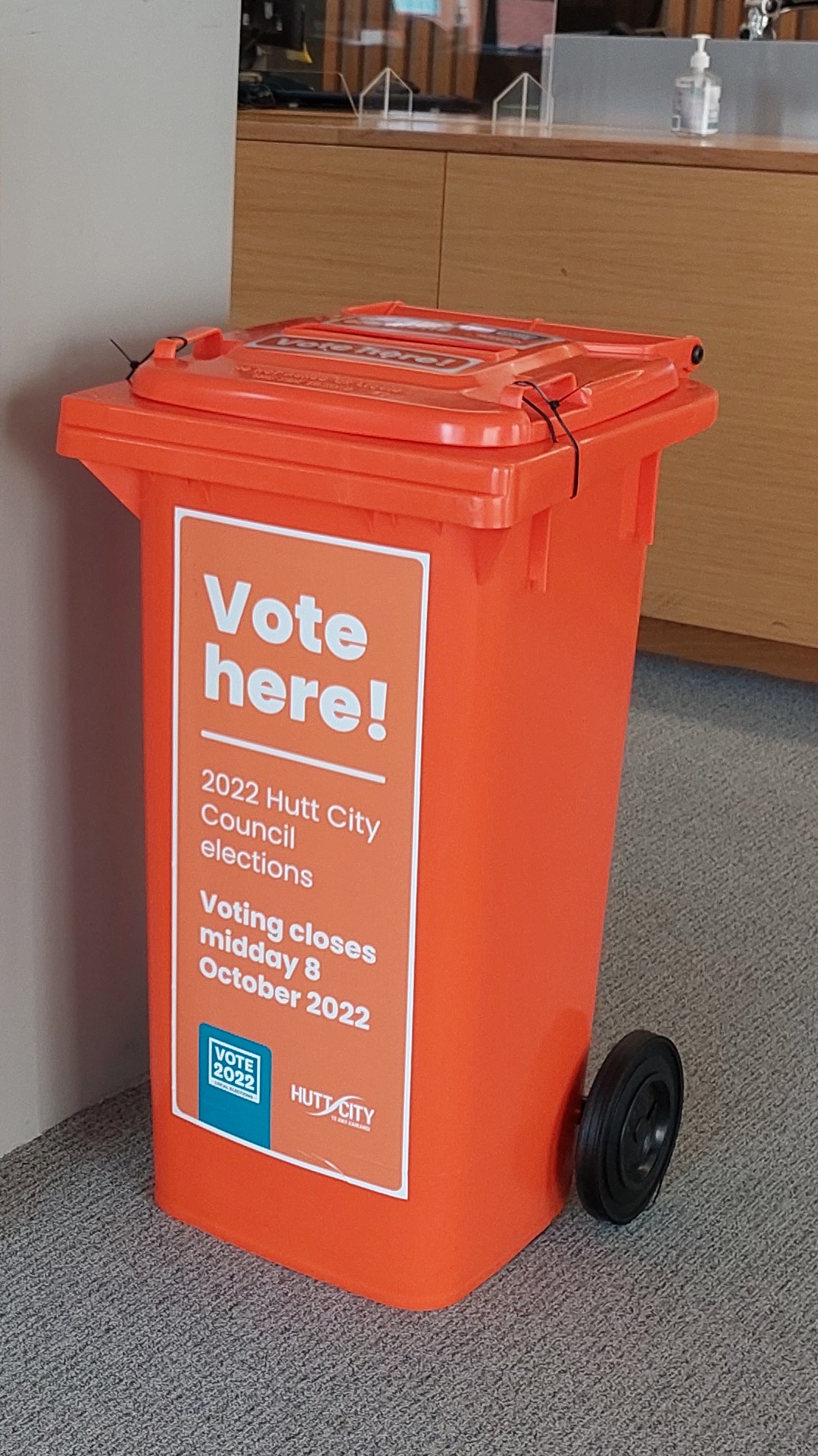 Note on representation review
Hutt City Council is also reviewing how many councillors we have and how they're elected next year. We're required to review this at least once every six years, under the Local Electoral Act 2001. This means we'll also look at things like whether we have wards (including Māori wards). We'll be putting out a lot more information about this review next year, including opportunities for public feedback and for communities to share their views.