Find out about the projects we're doing in Naenae: rebuilding the Naenae Pool and rejuvenating the city centre.
Naenae Pool and Fitness Centre
We are building a new pool and fitness centre in Naenae, replacing the original 1950s pool. The new Naenae Pool and Fitness Centre is one of the most significant infrastructure projects we have underway. It is part of other work within Naenae to revitalise the town centre and the local economy. The new pool will be completed in 2024 and soon after, this much-loved facility will be returned to our Hutt communities as well as aquatic sports groups across the Hutt Valley and wider Wellington region.
Work on the new pool began following an extensive community consultation project in 2019. In 2021, we shared draft concept designs with the community resulting in the Voice of the Community Part 2 which has helped to shape the final design.
To take a 360 view of inside the pool areas simply click on the image below then move your phone or drag the image to move and view the space from all angles.
| | |
| --- | --- |
| Main Pool | Leisure Pool |
Whakatupu Ngaengae newsletter
For updates on the latest about our Naenae Projects read the latest Whakatupu Ngaengae newsletter here
You can sign up for future email updates.
---
Construction updates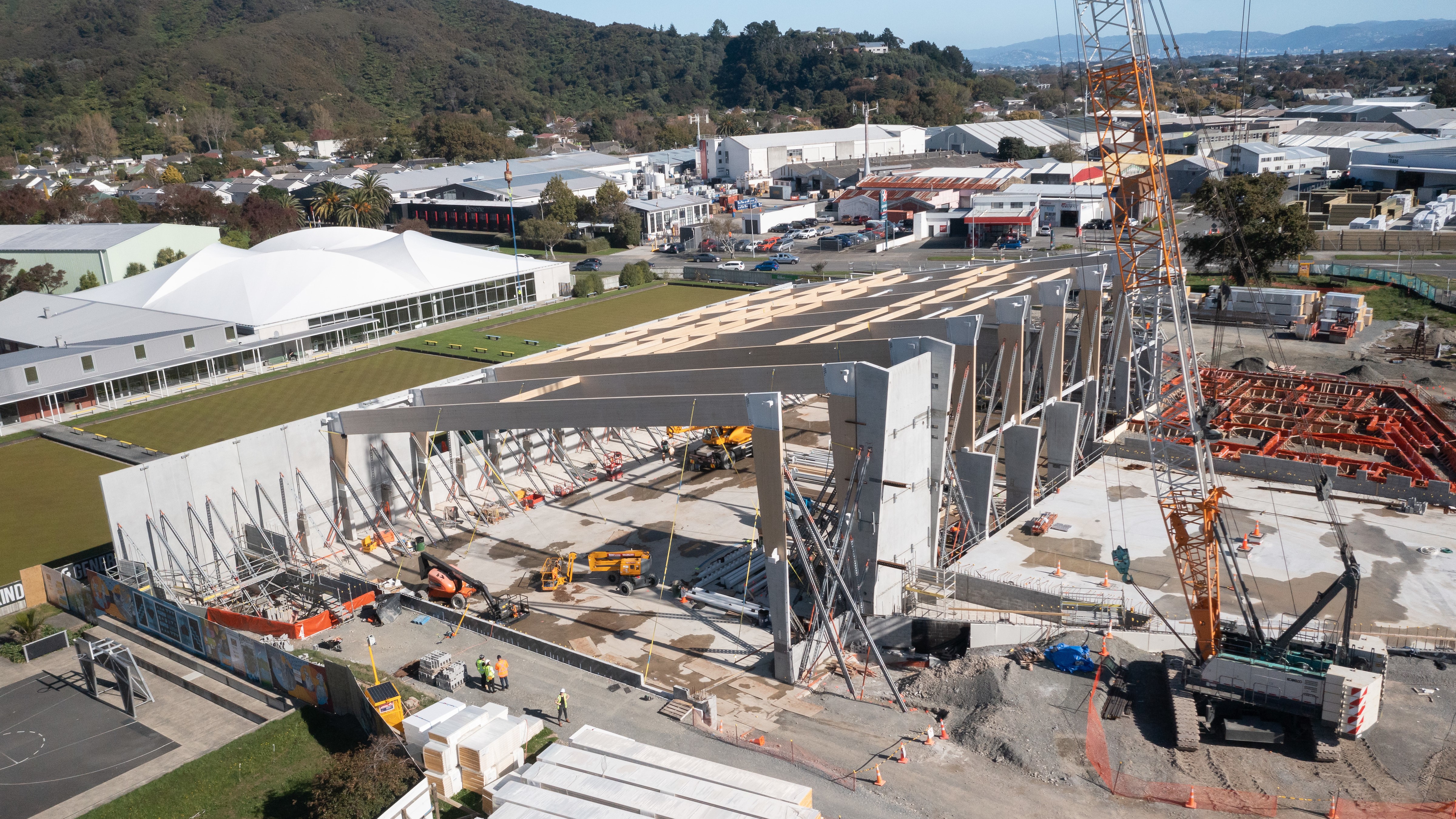 View live updates from the construction site of the new pool via our timelapse tool, where a new image is livestreamed every five minutes. Use the "compare" tool to compare progress between dates, or use the "photomontage" tool to create mini timelapse videos.
---
About the Project
2022
Deconstruction completed & construction begins
Stage 1 – Foundations
2023
Stage 2 – Structural frame complete
Stage 3 – Roof, glazing and cladding commences
2024
Stage 4 – Pool and building services, internal walls and pool tanks
Stage 5 – Internal fit-out, final touches, test and commissioning complete
Grand opening
The new pool and fitness centre will include:
50m Olympic-size pool to FINA requirements – 10 lanes wide
2 moveable bulkheads to enable multi-use of the main pool
2 zoom tubes
Spectator seating for up to 600 people
Leisure pool with family-friendly shallow section and deep section with ramp access, seating area and hydro jets
Splash pool for young children
Special poolside party room for birthdays
Fitness room and Gym
Improved connection to the outside space
Improved access with single level across all public spaces
Outdoor BBQ area with seating and sunshades
In line with our commitment to being carbon zero by 2050, the build and design of the new pool has a strong sustainability focus.
The old Naenae Olympic Pool ran on natural gas and was a major contributor to greenhouse gas emissions. The new pool will reduce emissions by nearly 50%.
The design team is working alongside crown agency Callaghan Innovation to support being the first aquatic centre in New Zealand to have a Green Star Five rating.
Achieving this rating starts right at the start, and we recycled or reused 90% of all building materials, saving more than 13,000 tonnes of scrap metal and concrete from going to landfill. For example, concrete from the pool and bleachers was crushed on site and re-used to fill the pool void.
Sustainability features will include:
| Design | Energy |
| --- | --- |
| A building resilient to the impacts of climate change and natural disasters | High efficiency heat recovery air-conditioning units providing dehumidification and air-conditioning |
| High level of maintenance and serviceability of services and structure | Metering and monitoring of energy and water use |
| Using sun-shading or smaller windows to reduce heat gain and high efficiency glazing using low-E glass and thermally broken framing | Centralised heating, cooling and electrical systems |
| Stainless steel tank construction - less embodied carbon than concrete base/walls | Solar PV system (upgrade option) |
| The use of Glued laminated timber for the main pool hall structures | Energy efficient LED lights |
| EV parks with charging points and secure bike stands | Fine tuning of pool water temperatures |
| High quality indoor air quality; high standards of acoustic, lighting, visual and thermal comfort | Energy efficient pool services, for e.g., backwash water heat recovery |
| Ability to separate operational waste | |
In 2021 Council approved a budget of $68m as part of the 10-year plan. In 2020 Council received co-funding of $27M from central government as part of investment in COVID Response and Recovery, which will be managed through a partnership with Crown Infrastructure Projects (CIP).
The trees at the south-west end of the park are being removed as part of the Naenae Pool and Fitness Centre, an important part of the revitalisation of the Naenae Town Centre. It was hoped some of the trees could be retained, and a number of factors have been considered in the decision to remove them, including:
An arborist's report showing some of the trees are not in good health and would not likely do well with the changes planned to take place around them
Car-parking and access to the new pool were key issues raised in the feedback last year, both of which are restricted by the trees
The creation of green spaces was a key design principle of the project and a focus in the Voice of Community
The preference is for large, long-lived trees to be planted with adequate spacing throughout the park as a legacy for the future, and the creation of a pleasant woodland/forest of native trees & plants in the park area at the rear of the pool.
The decision to remove the trees was made in consultation with the Community Advisory Group for the project. Over time they will be replaced by native tree species that connect and represent the Naenae environment and culture. They will be resilient to pruning, allowing for lifted canopies, creating more openness across the space and improving safety for the community around the new facility.
We're proposing some changes to car parking on Everest Avenue.
The Pool will bring back over 450,000 annual visitors to Naenae and we need to ensure there is safe, universal access for the whole community while visiting the pool and the Naenae shops.
In line with our Integrated Transport Strategy, there will be ample bicycle parking and easy access to public transport, along with a carpark for pool users with 28 parks and EV chargers.
Consultation on changes to carparks on Everest Ave has closed, and we will update the community once changes have been approved by Council.
View the proposed changes here: https://hutt.city/naenaepoolparking
---
Naenae Town Centre project
Alongside the new pool, we're making progress in Naenae Town Centre with projects such as refurbishing the Naenae Neighbourhood Hub (library), building a new community centre, and redeveloping Walter Mildenhall Park.
These projects aim to achieve positive impacts to Lower Hutt's community, environment and economy. We've developed a model to help us measure the social impact of these projects.
A Community Advisory Group meets regularly to provide the "voice of the community" to Council. Comprised of community leaders, business owners and advocates, the group represents the views of Naenae residents to help shape solutions and make recommendations.
We are prioritising working with local suppliers to produce local economic benefits for the Naenae and the Hutt City region. For example, part for the pool's zoom tubes are being made by fibreglass specialists Carboglass in Taitā and our new community centre is being built by Lower Hutt construction firm Duncan Commercial.
---
Walter Mildenhall Park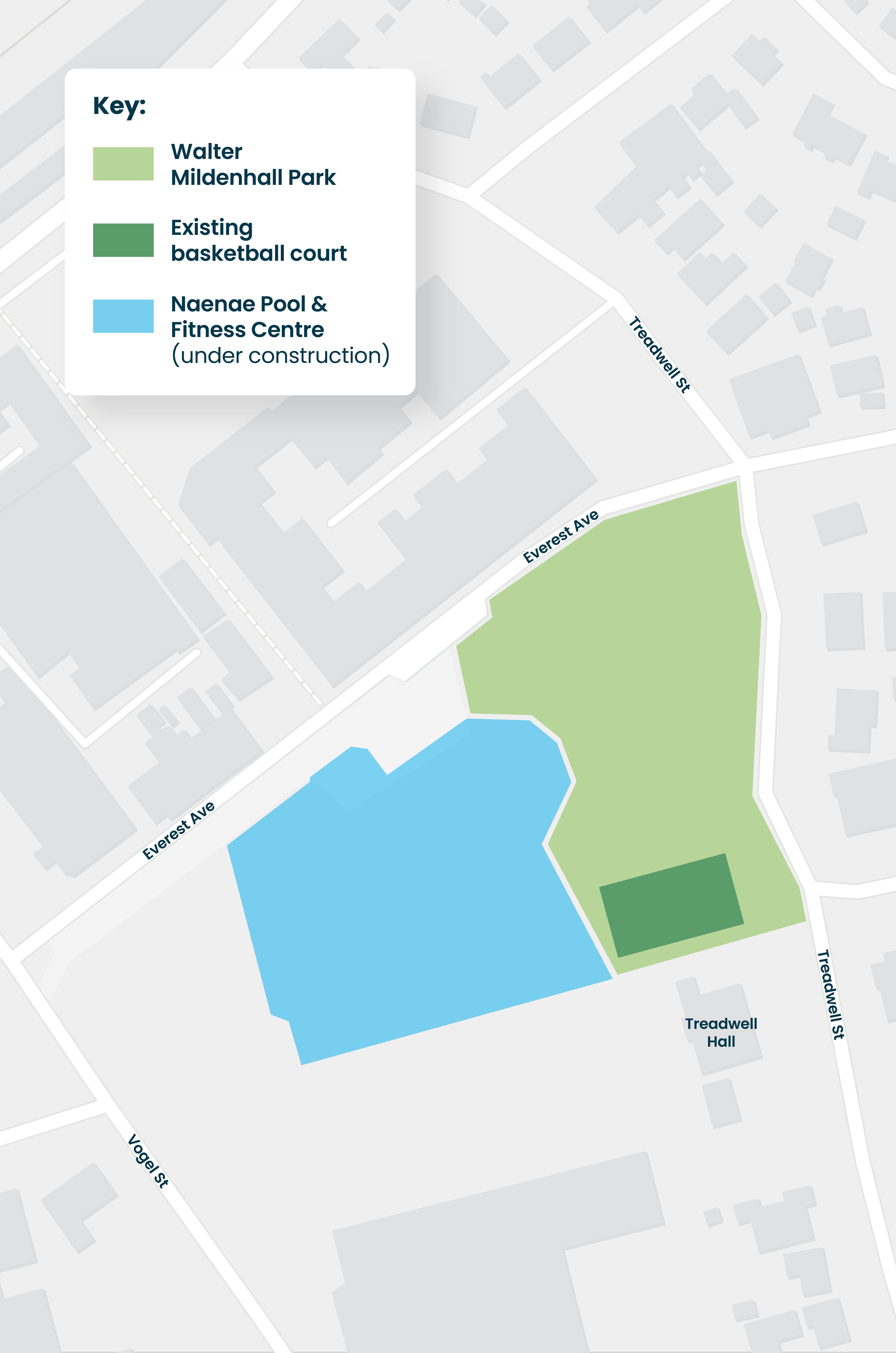 Walter Mildenhall Park will be redeveloped with and for the community after the Naenae Pool is completed mid-2024. The Naenae Community Advisory Group ran a survey in August canvassing the views of close to 400 people.
The survey asked residents what activities they'd like to do and see happening in the park and what kind of design they preferred. There There was support for activities like play spaces, BBQ areas, picnic spots, wheeled activities, gardens, leisure activities and artistic displays.
Safety, accessibility, and inclusivity were strong themes along with a desire for a space that strikes a balance between planting and open space, recreation, relaxation, cultural expression, and community connection.
Council will work with the community group to incorporate this feedback into a design brief for the potential landscape architect. We will re-engage with the community on draft concept designs early next year.
Read the full survey results here: hutt.city/waltermildenhallparksurvey
If you would like to be involved in community workshops about the park's design, please contact naenaepoolproject@huttcity.govt.nz
---
New community centre
The former Naenae Post Office and clock tower will soon be home to a community kitchen, flexible open plan spaces and shared office styled meeting rooms as a major redevelopment of the iconic landmark building gets underway. The centre has been designed in consultation with the community and will be a place where the community can gather, connect, access services and take part in programmes and events.
Above is a series of concept design images of the new community centre. Local construction company Duncan Commercial have begun work and the centre will open in 2024.
---
Feedback on uses for Naenae Community Centre
In April, the Whakatupu Ngaengae Community Advisory Group held a series of workshops and drop-in sessions asking the community for feedback on the designs for the new Naenae Community Centre.
The community shared their ideas on how it might be used and what activities they would like to see, which included activities ranging from film festivals to cultural celebration days.
We will use the feedback to inform the building design, ensure that key requirements can be addressed and assist community groups who will operate the centre as lead tenants on behalf of Council.
Community groups and residents shared that they want a community-led space underpinned by the values of whanaungatanga -belonging, manaakitanga -welcoming/inclusion, equity, collaboration, kindness, resilience, sustainability, and responsibility.
| Ideas for community activities included: | |
| --- | --- |
| Movies, film festivals, community choirs & live music | Arts & crafts like knitting groups or art exhibitions |
| Cultural events & celebration days | Workshops and training sessions |
| Physical activities such as dance or yoga classes | Meetings for various community groups |
| Community events for senior citizens or families | Co-working spaces to meet & engage with others in the community |
| Pre-school activities like playgroups or Plunket sessions | |
| Games like board games or puzzle night | |
Next steps:
Over the next few weeks, we will review the feedback and assess how well the activities, programmes and space requirements are met by the current design and whether the desired activities can be met by the existing budget. Any design changes and budget implications will be first reviewed by the Community Advisory Group and we'll update the community when changes have been made and the lead tenants are appointed.
---
Naenae Projects News