Find out about the walking and cycling shared path we are creating around the Eastern Bays.
---
About Tupua Horo Nuku Eastern Bays shared path
The Eastern Bays shared path is a 4.4 kilometre walking and cycling path to be built along Marine Drive between Ngau Matau (Point Howard) and Eastbourne. It will be called Tupua Horo Nuku, a name that evokes the narrative of the Tupua, Ngake, one of the two creators of the Harbour in traditional Māori narrative. The name was gifted to the project by Te Atiawa Taranaki Whānui, as part of the partnership between iwi and Hutt City Council.
Artist's impressions of the design of Tupua Horo Nuku Eastern Bays Shared Path
Video description: Watch the video on the naming of Tupua Horo Nuku, Eastern Bays Shared Path
We are preparing for the construction stage of the project. Work is due to start in the southern portion in October 2022.
The Tupua Horo Nuku Eastern Bays shared path will run along Marine Drive in two sections between Ngau Matau (Point Howard), Oruamatoro (Days Bay), and Eastbourne.
In the future, it will also link to other paths and regional routes such as the Remutaka Cycle Trail, and a future network of walking and cycle paths around Te Whanganui-a-Tara, Wellington Harbour.
The project aims to:
Provide a safe and integrated walking and cycling path on Marine Drive to connect communities in the Eastern Bays.
Create links to other parts of the walking and cycling network for commuting, recreation and tourism.
Create new seawalls for improved protection from storms and waves. Construction will enhance the environment where possible and provide a base for future resilience upgrades.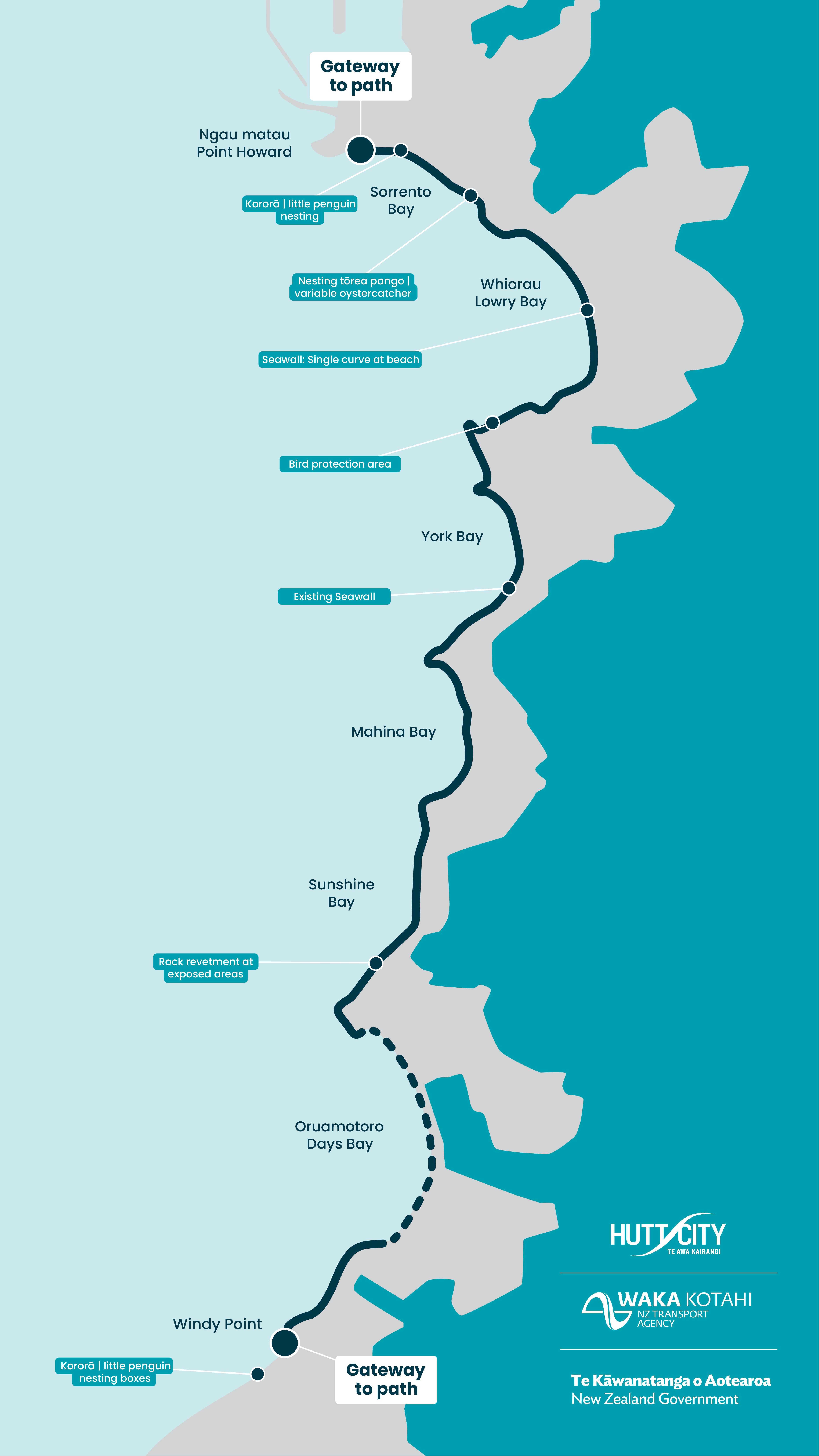 Hutt City Council, Waka Kotahi NZ Transport Agency, and the Government through the COVID-19 Response and Recovery Fund are helping to fund this project. $30 million in funding has been committed so far.
Hutt City Council is working in partnership with iwi mana whenua – Taranaki Whānui ki te Upoko o te Ika, and Ngāti Toa Rangatira. This partnership operates through the Mana Whenua Steering Group.
The project is will be delivered on behalf of Hutt City Council by Te Ara Tupua Alliance.
This is a project delivery team made up of:
Waka Kotahi
Downer NZ
HEB Construction
Tonkin + Taylor.
Te Ara Tupua Alliance is also delivering the Ngā Ūranga ki Pito-One (Ngauranga to Petone) shared path.
Right now
We are completing detailed design, and preparing to start construction of the southern portion (Windy Point and Sunshine Bay).
November 2021
Alliance delivery model chose, with Te Ara Tupua Alliance confirmed to deliver southern portion (Windy Point and Sunshine Bay).

Landscape and Urban Design Plan consultation with residents associations and community groups.
October 2021
Community open day on project next steps.
June 2021
Resource consent appeal resolve (resource consent confirmed)
March 2021
Resource consent initially approved (subsequently appealed)
April 2019
Resource consent application lodged with Greater Wellington Regional Council
2018
Design development for resource consent begins
2015
Start of community engagement
2014
Eastbourne community survey showed that the shared path, and climate change, were the top concerns facing the Eastbourne community.
---
For more information
Project News
Sign up for regular email updates about the Tupua Horo Nuku project
0800 135 255
Contact us if you have any questions for the project team