Creating safer streets for people walking and biking
Maru in Te Reo Māori is a term expressing protection. The Maru | Streets for People - Wainuiomata Schools Connections project aims to make it feel safer, more inviting and accessible for residents of all ages to walk, skate, scooter or bike to school, work and the town centre, and to spend time in public spaces.
---
Hutt City Council has won a share of a $30m fund from Waka Kotahi NZ Transport Agency. The Streets for People fund is aimed at making streets safer and more appealing to walk, bike, and scoot for short local journeys. Fewer car trips reduces congestion and the cost of travel, helps our tamariki and kaumatua be independent and improves the health of our people and our planet.
The project aims to deliver a safer and better-connected low-carbon travel network between the town centre, local schools and Te Hikoi Ararewa (Wainuiomata Hill Shared Path). The Streets for People programme will fund 90 per cent of the projected $1m cost of community consultation and designing, trialling and making permanent the final options.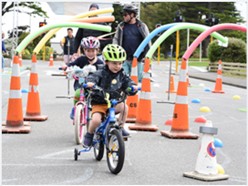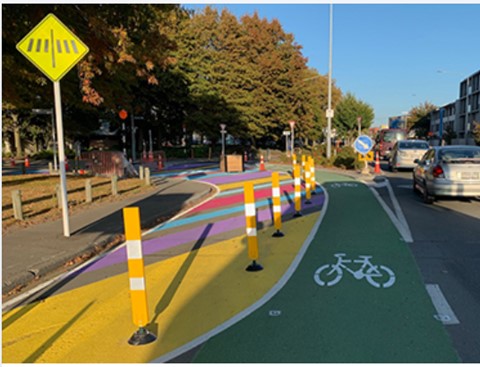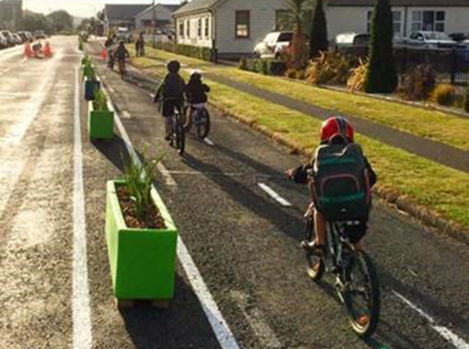 Examples of a pop-up event, interim layout to trial community ideas and a semi-permanent layout. Photo credits: Invercargill City Council, Waka Kotahi and Christchurch City Council.
Maru | Streets for People
Meetings with local groups, schools and community leaders began in late 2022 and continued into early 2023. Ideas and feedback was then used to develop designs for new layouts that were trialled using temporary materials in the laneways and streets during April/May 2023.
The trial layouts were designed to address problems of safety and accessibility identified by the community. During the trials people had opportunities to experience the new layouts and provide feedback both online and in-person allowing the layouts to be quickly adapted if needed.
Following the trial period further workshops will be held with community stakeholders using data and feedback from the trials to inform the next stage of design. More trials to test elements of the design may be needed before anything is installed permanently.
This project is a great example of what we want to achieve through our Integrated Transport Strategy. By making walking and biking a more appealing option around our people-friendly local centres, especially for our school students, we can tackle some of the challenges we face to improve environmental impact, community wellbeing, safety and limited travel choices.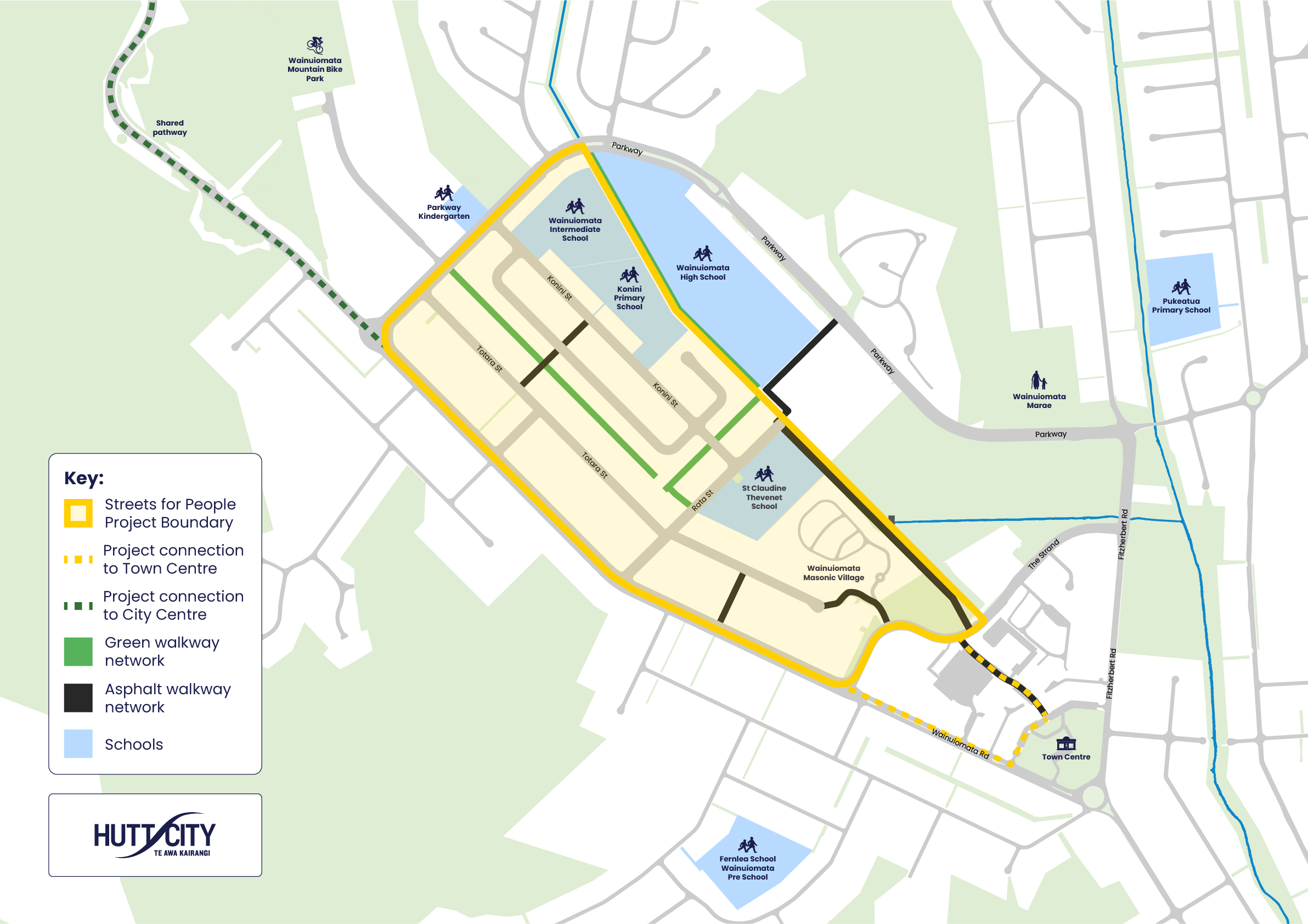 Wainuiomata is well known for its abundance of flora and fauna, and this special character is described in the cultural narrative for the area written by Kura Moeahu (October 2021).
Caring for and nurturing this abundance for future generations is an important cultural value for mana whenua. Caring for visitors and for people in the area is another important cultural value. Maru | Streets for People, is aligned with these values as it seeks to provide safer active travel options that enhance the health of people and place, turning up the noise of children and turning down the noise and pollution from congested streets.
Let me take you back in time immemorial, well before man walked this island. Te Kāhui Mounga, the mountain clan, were hauled from the great depths of Te Moananui a Kiwa (the great ocean of Kiwa) to calm the fish of Māui. Through ritual incantations gifted by Ranginui, Te Kāhui Mounga calmed the great fish from the summit of the gods, Pukeatua.
Following the execution of the ritual incantations, Te Kāhui Mounga cast their eyes on their new surroundings. Facing the east, they acknowledged the great gifts of the harbour that were about to become visible to Ranginui, Tāwhirimātea, and Tamanuiterā once again.
Te Kahui Mounga, through their proverbial saying, "ko ngā taringa i kite" (it is my ears that see), observed the rich orchestra of sounds deep within the dense forest of Tāne, and the rippling water tributaries that flowed across the land. An untapped, fertile country, with an abundance of rich resources, "Te Whata kai o Maui", (the elevated store house of Maui) - Wainuiomata.
---
What's happening?
The on-road trial took place from 10-17 May and the community had opportunities to provide feedback in-person and online. Feedback and data from the trial will be collated and a report released which will help inform next steps with this project including a design for a semi-permanent layout.
Laneway trials including installation of planters in place of metal barriers, the addition of seating, wayfinding and artwork remains in place throughout the project area.
Feedback and questions can still be sent through to wainuistreets@huttcity.govt.nz. If you'd like to be kept up to date on projects happening in Wainuiomata you can sign up for the newsletter
---
Laneway Trials
The community said that accessibility for bikes, prams, people using mobility aids and for elderly residents is lacking in the project area and in laneways. You suggested improving accessibility and adding places to stop and rest.
From 26 April we're making trial changes to the laneways in the area in response to your feedback:
Removing the metal barriers at the entrances to the laneways between Hinau Grove and Wainuiomata Road and Totara Street and Konini Street and installing planters in their place. This will improve access to these laneways for people with prams, bikes, and mobility scooters while maintaining safety by preventing larger vehicles from entering and preventing people emerging from the laneway onto footpaths at higher speed.
Installing seating in the green spaces off the laneways, improving accessibility and walkability for people who may need to stop and rest.
Signage, wayfinding and artwork has already started to appear in the laneways as part of the trial.
These materials can still be adapted and moved. We want to know what you think to inform permanent designs. You'll have the opportunity to talk in person or give feedback online during the week of the trials.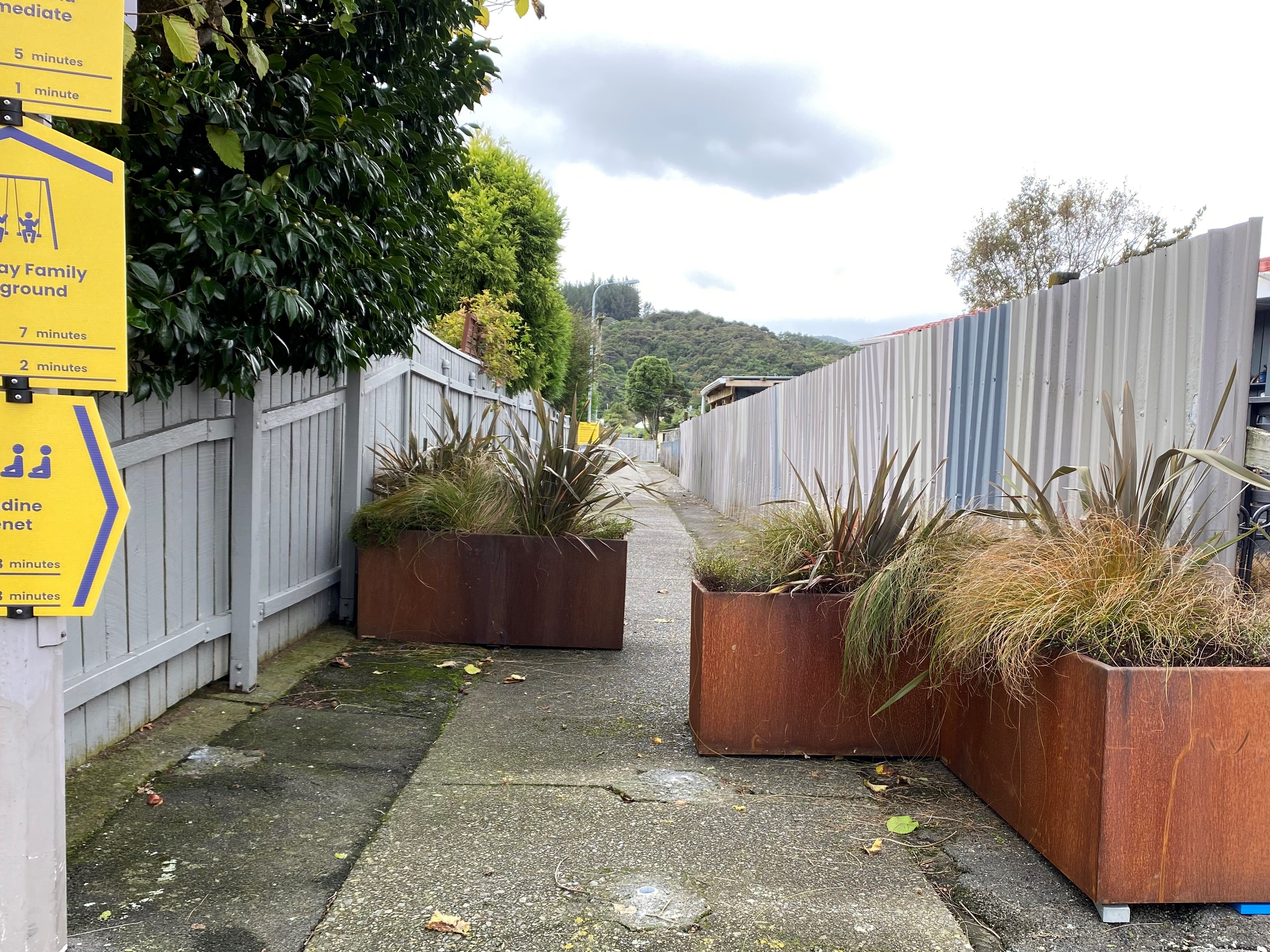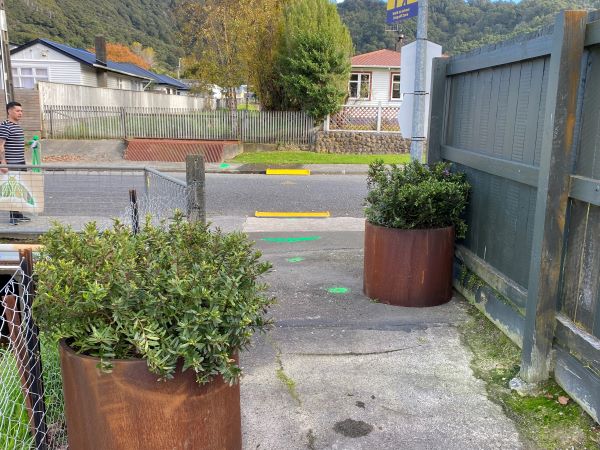 Wayfinding, signage and artwork
The community told us that the laneways are uninviting, and that you'd like to see more artwork and signage that reflects Wainuiomata, showcases nature and makes them more welcoming. Students especially enjoy social nature of walking with friends and family, and of having natural elements along the way.
We've used temporary materials to add artwork and planters in these spaces, tweaking designs in response to local feedback. The tatarakihi (cicada) and tittipounamu (rifleman) designs link to the idea of turning up the sounds of nature and people in these spaces, and turning down the sound of traffic. They reflect the special character of Wainuiomata. We've also added maps and signage.
Tohu - Design Elements
Design elements used in the project area are being used as an expression of Te Whata Kai o Māui - Wainuiomata (Cultural Narrative).
Depending on feedback, these, and other elements would be incorporated into more permanent designs on key routes for people using active and low carbon transport through Wainuiomata.
The tātarakihi (cicada) tohu is a visual representation of aspirations in Wainuiomata to restore the dawn chorus. The beating of their wings is often used within toi to represent the energy of children and is a symbol used by Taranaki whānui finding its whakapapa in Parihaka. We're currently trialling the tātarakihi design with temporary materials in key routes between schools in the project area.
The titipounamu (rifleman) tohu is another symbol of the dawn chorus that celebrates the predator control of Wainuiomata's native forests. Predator control around Wainuiomata has created an environment where native species thrive. You can find the titipounamu design on Te Hikoi Ararewa Wainuiomata Hill Shared Path.
A tuna (eel) tohu is being used within the drainage reserve to reference the non-human elements that exist within te Taio, our environment. The Parkway/Konini/Totara drainage reserve contains parts of Black Creek which is a well-known spawning site for tuna, many of these tributaries have been redirected over the years that Wainuiomata has developed. The use of the tuna tohu within this greenway is a reminder that we share Wainuiomata with non-human elements and if we are going to continue to see species like the tuna thrive, we must do our part.
---
On-road Trials
The community has said they are concerned about the safety of tamariki and rangatahi walking, scootering or biking around these schools. This was because it is difficult for people to cross busy roads due to the speed and volume of traffic, as well as unsafe driver behaviours, like u-turns and taking corners quickly. Community suggestions included adding speed bumps, signage, having school drop-zones and raised crossings.
A new road layout design was developed following feedback from the community and was put in place with temporary materials during a week-long trial from 10-17 May. During the trial there were opportunities to provide feedback in-person and online.
The goal of the trial was to test new layouts that would improve safety and accessibility for everyone – especially school age children – when walking, biking or scootering for short local journeys.
Materials used were temporary and reusable, allowing us to make rapid changes in response to your feedback and reuse them for future projects.
As part of the on-road trial we:
Made changes to crossing points to improve visibility of pedestrians
Narrowed intersections to reduce turning speeds and improve safety
Lowered speeds within the project area to 30km/hr
We are working with local schools to add school drop zones to help make drop-off and pick-up times less chaotic and encourage parents to park safely. We also continue to support road safety programmes for students.
We're supporting pedestrians to move through the area with improvements to existing and likely crossing points.
Raised courtesy crossings will be installed on Totara Street at the start of the paved laneway, and on Hinau Grove at the end of its laneway.
Kerb ramps for easier access by wheelchairs, prams and mobility devices will be installed on Karamu Crescent between the laneways, and at the intersections of:

Karamu Crescent and Konini Street (both ends of Karamu Crescent)
Konini Street and Parkway
Konini Street and Wetherby Grove
Konini Street and Rata Street
Rata Street and Hinau Grove
Rata Street and Totara Street
Totara Street and Parkway

Road narrowing at existing pedestrian crossing on Rata Street in front of St Claudine Thevenet School.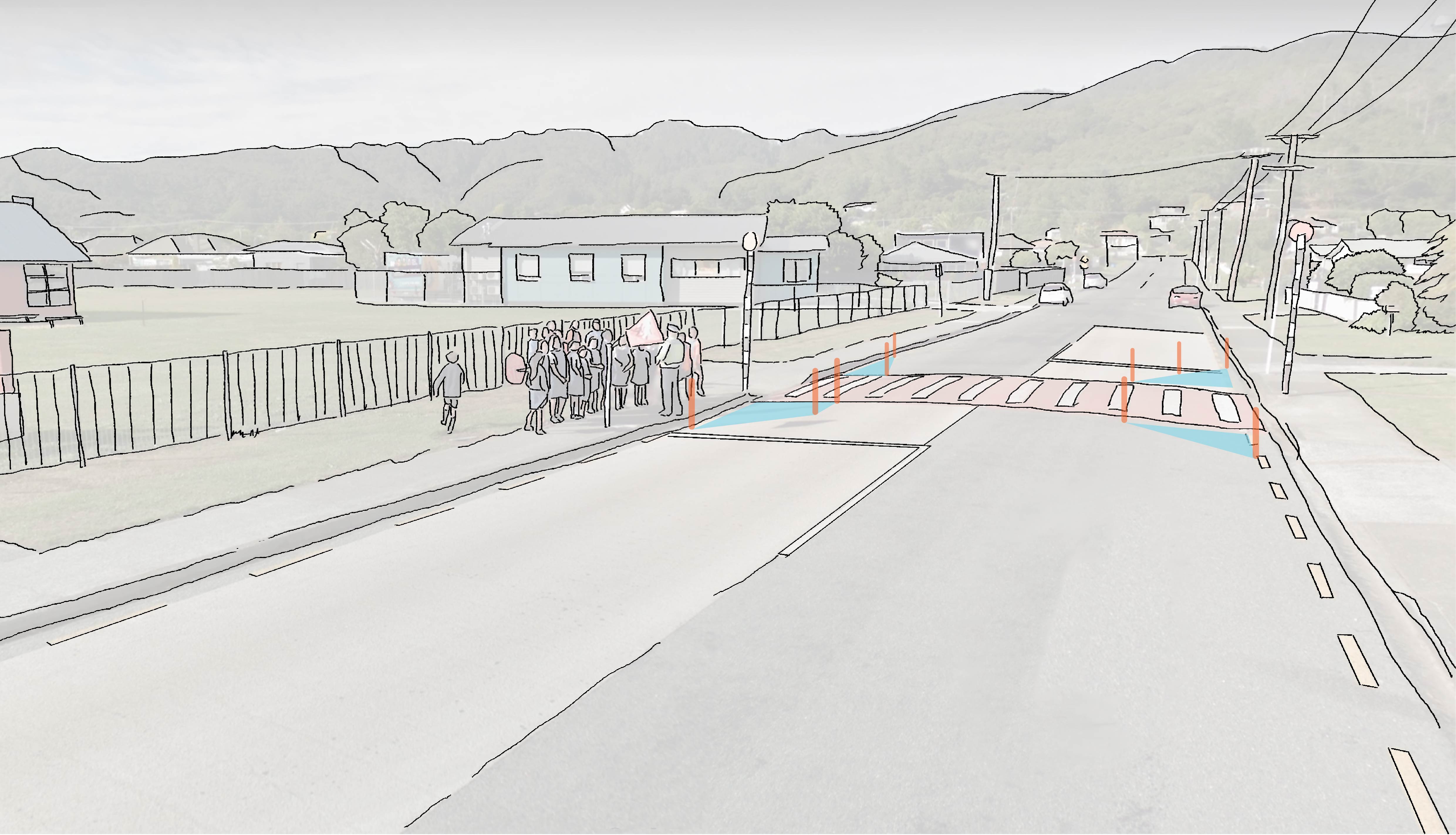 To reduce turning speeds and shorten the distance pedestrians need to cross on the road we'll be tightening the intersections at:
Karamu Crescent (western end) and Konini Street
Karamu Crescent, Konini Street and Wetherby Grove
Konini Street and Parkway
Konini Street and Rata Street
Rata Street, Hinau Grove and Totara Street
Totara Street and Parkway
The temporary tightening will be done with cones and cut pieces of astroturf in the shape of local leaves.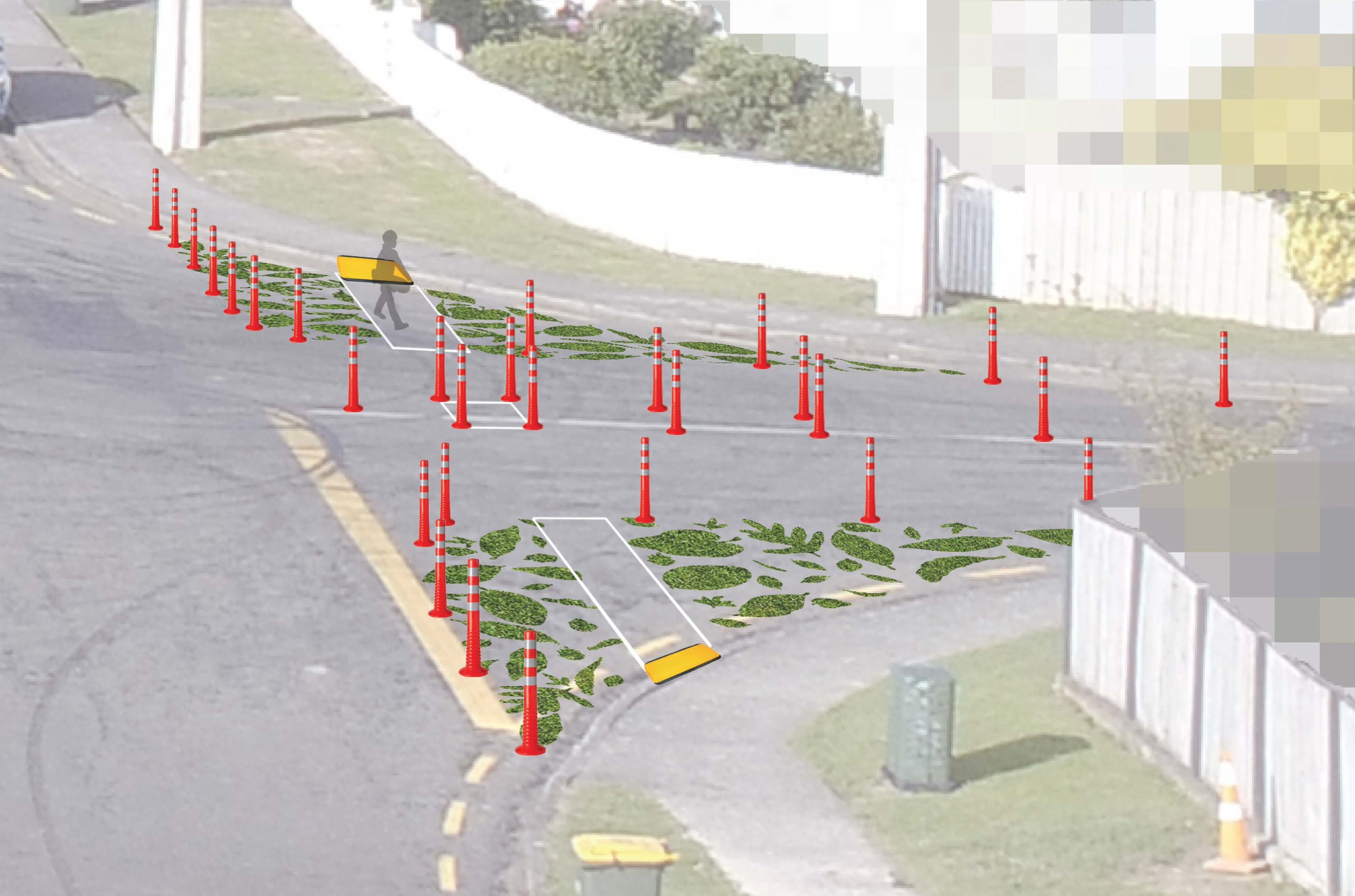 The speed limit will soon be lowered in this area as part of a nationwide programme led by Waka Kotahi implementing lower speed limits around schools. For the trial to properly represent the future state of the roads, we will be temporarily dropping the speed limit for the duration of the trial. The intention of the trialled changes are to reinforce the lower speed limits by changing the way the road looks and feels, so that drivers will feel the new speed is the natural way to travel through the area.
---
Your feedback
The Maru | Streets for People project aims to make it feel safer, more inviting and accessible for residents of all ages to walk, skate, scooter or bike to school, work and the town centre, and to spend time in public spaces.

We've spoken to students, schools, and local residents through interviews, workshops, events, and a community survey. View the Maru | Streets for People Benchmark Report
During the trials in May 2023 there there were opportunities to provide feedback in-person and online and a report of this feedback will be available soon.
If you would like to have your say or be involved in future workshops, email wainuistreets@huttcity.co.nz.
---
Timeline
| Date | Activity |
| --- | --- |
| Summer 2022/23 | Public events/activities for feedback, and co-design workshops with stakeholders to determine key issues and preferred community options. |
| Autumn 2023 | Trial layouts will be installed on the road and in laneways. On-road trials will be in place for up to one week using temporary materials with installation and removal happening before and after. Laneway trials which improve accessibility will in place for longer. Layouts will be adaptable in response to data and feedback. |
| Winter 2023 – Winter 2024 | If the trial layouts work well for community, then interim installations will be put in place that test the layouts using more permanent materials. Data and feedback will continue to be collected to inform permanent designs. |
---
Frequently Asked Questions
This project is part of the Streets for People initiative funded and supported by Waka Kotahi NZ Transport Agency. The aim of the project is to try out temporary changes to make a safer and more people friendly connection for active and low carbon of transport between the Wainuiomata town centre, local schools and Te Hikoi Ararewa (Wainuiomata Hill Shared Path).
We want it to feel safe and inviting for residents of all ages to walk, skate, scooter or bike to school, work and the Town Centre, and to spend time in public spaces like the Town Centre.
This might mean safer crossings near schools, lower vehicle speeds in the project area, more seating or more accessible ramps or other changes.
Hutt City Council applied for the Waka Kotahi Streets for People funding as it creates new opportunities to partner with communities and businesses to make our streets and public spaces safer and more enjoyable to spend time in.
The fund provides councils with the financial resource and expert support to meaningfully partner and try out temporary changes that make it easier for people to move around or access community spaces. 90% of the project budget is provided by Waka Kotahi with the remaining 10% funded by Hutt City Council through existing budget allocations.
Along with the financial resource, the project teams are able to call on support from local and international experts who have delivered projects with similar aims, as well as learning from the other communities and councils that have also been funded for projects through the Streets for People initiative.
Wainuiomata is a fast-growing suburb that occupies a flat valley with a warmer and less windy climate than the rest of Lower Hutt. It has excellent facilities for recreational biking and walking (Waiu Park, BMX facilities, Heartland Ride), the popular Te Hikoi Ararewa (Wainuiomata Shared Path) and major upgrades to the Town Centre are almost complete. There are several local schools serving the community and most are interested in active travel with their school biking and scooter programs. There are also two retirement homes with some residents who no longer drive. Wainuiomata has some excellent of-road paths that are suitable for its oldest and youngest residents to walk or scooter along for independent travel.
Traffic safety concerns and a lack of connections to these shared paths are seen as barriers preventing people from walking, biking or scootering for more of their daily journeys to school or to the town centre. These issues were identified by the public in surveys for the Wainuiomata Town Centre Upgrade.
In addition to the work improving the town centre, this central area is ideal to trial change as there are three primary schools and one secondary school in the area. These schools are attended by 1,300 students. Being a passenger in a private car is a main way for many of them to get to school, which means a lot of congestion along Konini Street in particular. This congestion makes it less safe or attractive for others to walk, scoot or bike to school. A lot of work has been done to ensure students learn cycle safety and scooter safety skills at all Lower Hutt primary schools. A safe, accessible and attractive route with more crossings will enable students from these schools to put their skills into action and increase the number of students getting to school actively and reduce the amount of traffic in the area as a result. If it is safe and works well for primary aged students, then it will be safe and work well for all users. Fewer short local trips by car helps families to save money on petrol, is healthier for our people and our planet, and means that our youngest and oldest residents can be more independent.
Nationally there is a goal to increase the proportion of journeys made using active and public transport by 40% by 2030. This goal helps us to meet our carbon emission goals, improve health, and optimise the efficiency of the existing network. The increasing popularity of electric bikes and scooters will help to meet this goal by making active transport more accessible to more people and enabling people to travel more quickly.
The increasingly connected network of cycleways and shared paths across Lower Hutt means over time more people will feel safer using active modes of transport to get around Lower Hutt.
The funding for these projects comes from Waka Kotahi's Innovating Streets for People fund. Waka Kotahi provides 90% of the funding for the project and Hutt City Council provides the remaining 10% from existing budgets.
Tactical urbanism is all about action and real-world trials. It allows community and Council to work together to quickly design and test changes to local roads and community spaces that will make them more people-friendly. These changes can then be tested in the real world by the people who use the space. Trial layouts can be adapted in response to data and feedback. It means that when a final layout is arrived at, Council and community can have confidence that it will work well for all users of a road or public space and deliver safer, more attractive journeys and spaces. It features the following characteristics:
A deliberate, phased, iterative approach to making changes;
The offering of local solutions for local planning challenges;
Short-term commitment as a first step towards longer-term changes;
Low cost
Developing connections between community members and engaging and empowering communities to work with local authorities to bring positive changes.
The key to the success of this type of project is to listen and work with local communities to design solutions that meet their needs and ambitions.
The projects are about temporarily trialling new layouts in order to find something that works better for people than the current layout. We want the journeys for people on scooters, wheelchairs, walking or on bikes to and from the town centre to be easier and more accessible.
New layouts can be tested quickly and adapted in response to feedback. Temporary changes that make crossing the road easier and slow traffic using planter barriers, artwork, temporary chicanes or paint are possible. Changes to parking layout, installation of more clear signage and wayfinding or temporary bike and scooter parking are all options.
The great thing about these projects is that they will be designed alongside schools, businesses, residents and community. Trials will determine whether the changes make the journey better and safer for people walking, scootering, biking or using other active modes. Permanent change including concreting and roadworks is outside of the scope of these projects, but a temporary layout that works well for community could be made permanent in future.
How long changes are in place will depend on how well they work for people. The first trials will be pop-up installations of up to one week to test layouts. These will be on-road physical installations put in place under temporary traffic management for up to one week. These allow community to experience new layouts and give feedback in real time. They can be adjusted in response to feedback. Treatments that can be tested with pop-up layouts include build outs to improve the safety and ease of crossing the road for pedestrians, temporary crossings, temporary cycle lanes.
| | |
| --- | --- |
| Example of trial build outs at a pedestrian crossing | Example of a pop-up event. Photo credit: Invercargill City Council |
| Interim layout, photo credit: Christchurch City Council | Example of an interim layout. Photo credit: Waka Kotahi |
The fund provides the opportunity to test a new approach to designing and trialling changes to streets and public spaces. Temporary changes are used because they are low cost and adaptable. This means we can get feedback and monitor changes in real time and make any changes or adaptations needed. What we learn from temporary projects can then inform longer term decisions.
Temporary trials are a timely and cost-effective way of testing out solutions. By testing temporary solutions, we can adapt and change the layout to get the best solution for the people who use the street. We aim to use temporary solutions that can be reused and/or recycled for maximum sustainability and value for money.
Hutt City Council's Integrated Transport Strategy sets out a vision and roadmap for the future of Lower Hutt's transport system.
Council has worked closely with our local community, Mana whenua and key stakeholders to understand transport challenges and priorities of our residents when moving around our city. The Integrated Transport Strategy was developed to guide future planning, investments and deliver a healthy, safe, and resilient transport system. Three relevant focus areas of the ITS for achieving this vision are:
Creating a connected and safe travel network that makes it more attractive for people to cycle, walk or use the bus
Create people-focussed, liveable streets around key transport hubs and local centres
Encourage people to rethink how and when they travel
We need to reduce our transport emissions to help manage the effect of climate change and meet Aotearoa's global obligations. The Government's National Emission Reduction Plan (ERP) identifies interventions and sets targets to reduce greenhouse gas emissions, with the objective of reducing vehicle kilometres travelled (VKT) by 20% by 2035. To achieve this, we need more people to choose active and low carbon modes of transport for their short, local daily journeys more often.
We need feedback from all the people who use the area to understand their experience of the trial layouts. This feedback along with real time traffic monitoring will help determine what happens next in the project.
All the elements of the trial are temporary so can be changed and adapted as needed. We encourage as many people as possible to try out the temporary changes and provide their feedback to help the decision-making process. We'll share ways for you to do that closer to the time. Sign up for the newsletter to stay in the know.
---
Contact Us
Click here to receive a newsletter with updates about this project and other local initiatives.