The Wainuiomata Town Centre Upgrade updated the heart of this fast-growing suburb to better reflect the mana of the community.
---
About the Project
The Wainuiomata Town Centre project aimed to develop the area to better connect the fast-growing suburb to shops and services, while creating opportunities to engage with Wainuiomata's identity.
Following a development plan approved in 2016 and consultation with the community the project broke ground in April 2022 with streetscape specialists John Fillmore Contracting Limited (JFC) appointed as Lead Contractor. Work was split into four stages to ensure Queen Street remained open for people to access local businesses during construction, both on foot and vehicle.
The long-awaited redevelopment was officially handed back to the community in June 2023.
Consultation with the community between April and May 2020 informed key parts of the project.
Work on the Wainuiomata Town Centre Framework and Streetscape Plan started in late 2020 and built on the development plan that Love Wainuiomata started in 2015 as well as previous community engagement.
Further engagement throughout 2021 guided the project and initial design.
McIndoe Urban Ltd were contracted to develop the Queen Street Streetscape Plan based on the community's vision.
Construction updates
To get updates about the project in real time, sign up to our newsletter.
Queen Street Reopening and Anzac Way Closure
11/11/2022
From Monday 14 November 2022 Queen St will be reopened and Anzac Way will close to vehicle traffic to make way for works in front of the Memorial Hall. This is a planned closure as part of the Wainuiomata Town Centre Upgrade.
The Wainuiomata Town Centre Upgrade was designed to create a civic heart that focuses and supports community connections, helping to better reflect the mana of the community by creating a green space that links community resources – like the Queen St Reserve and the Community Hub – to shops and services.
Traffic on Queen Street will be unaffected, however, there will be a change to how people access the car park behind the Memorial Hall. Due to the closure of Anzac Way, access to the car park will only be possible from Wainuiomata Road just before the roundabout.
Progress Update
05/08/2022
You may have wondered why the Wainuiomata Town Centre Upgrade work is being done over winter. This is because we want to ensure that all work is completed before the busy summer period, so we can all enjoy the new space when the weather is fine!
There have been some delays due to COVID19 and unexpected construction issues, so we have had to work on different sites across Queen St at the same time. This is so we can keep to the project deadline of completing the road and footpaths by the end of the year, ready for summer.
Please note that extra car spaces will be opened up whenever possible.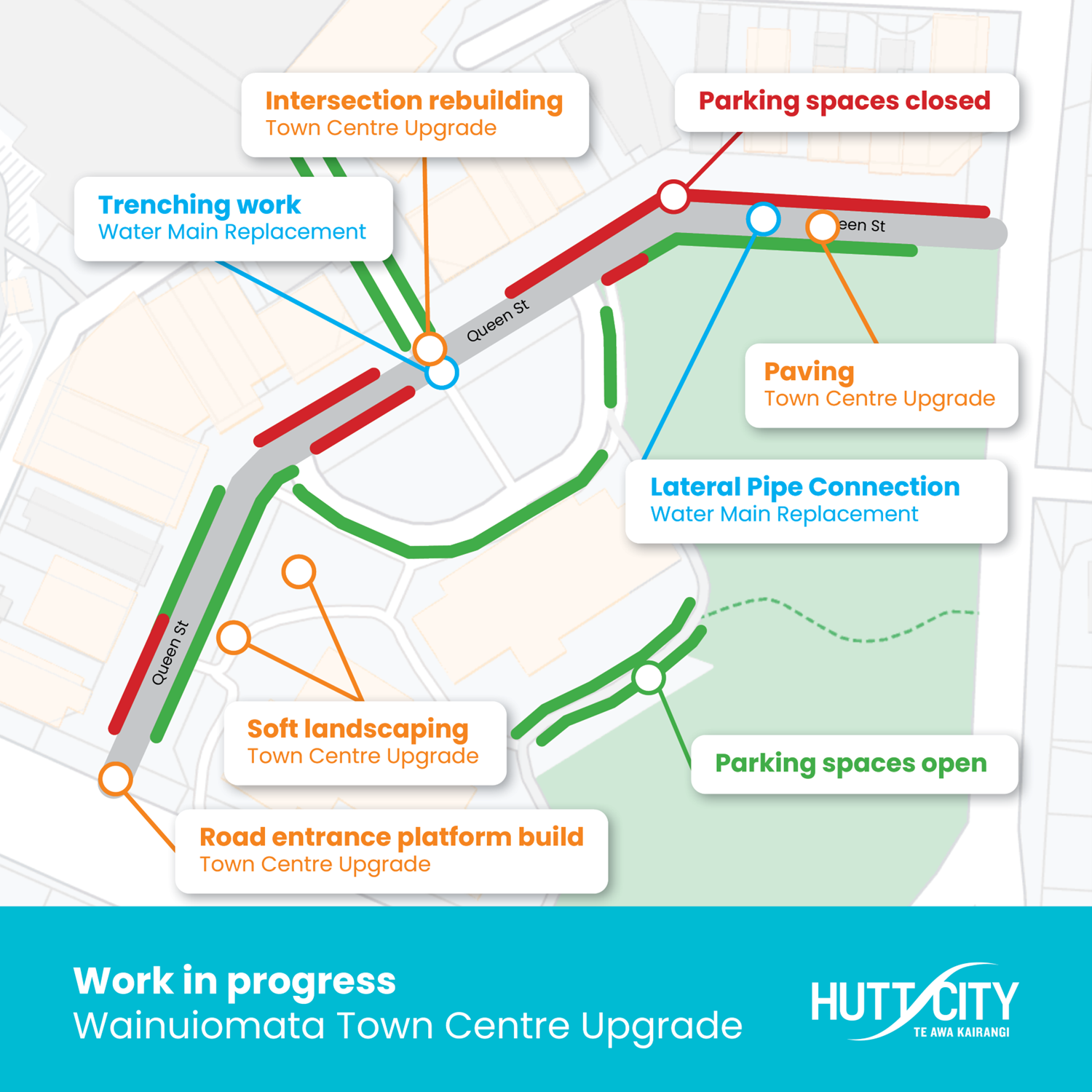 Water Main Replacement Works Update
01/08/2022
On Friday 8 July we discovered that the water main on Queen Street needs to be replaced. It was decided that these works will be incorporated into the Town Centre Upgrade project. This renewal will increase the reliability and resilience of the water main infrastructure, ensuring fewer issues for businesses and residents in the future. We have worked quickly along side Wellington Water to find a way of replacing the water main with the least amount of disruption to the community as possible.
Construction on the water main replacement started on Monday 1 August at the intersection of Te Ara Raukura and Queen St. Wellington Water started work on this area as this will cause the least amount of disruption, as it is already under construction as a part of the Wainuiomata Town centre Upgrade. They will be working on this area for 2 weeks.
Work will then progress into laying the new water main into the Fitzherbert Road end of Queen St, ending with Wellington Water connecting each of the shops to the water main.
The Te Ara Raukura intersection and the Fitzherbert Road end of Queen St works are expected to be completed by mid-September. Wellington Water will then move to the Wainuiomata Road end of Queen St, with a projected completion by mid-October.
Road Works Update
09/05/2022
Work on the Fitzherbert Road end of Queen St is well underway but your favourite Queen St businesses are still open so pop down for a visit!
John Fillmore Contracting (JFC) have created a temporary vehicle exit onto Fitzherbert Road while they are working on a new pedestrian crossing across Queen Street.
This temporary road will be in place for approximately two weeks while JFC construct the crossing over Queen Street.
This temporary exit meant that JFC had to remove existing planting from the garden bed, then fill, compact, and asphalt the area ready to be a temporary road.
In addition to this work, JFC have opened around 16 carparks on the south side of the Fitzherbert Road end of Queen St and around 15 carparks on the north side of this area are blocked off to allow for construction.
When these works are complete, cars will return to the normal road layout.
Paving Update
09/05/2022
We now have six containers of paving in port in Wellington with one container still on its way.
Stages
The project was been split into four stages to minimise disruption.
Stages One and Three were undertaken in halves. i.e., during Stage One, while works on the southern side of Queen Street occur, vehicles will still be able to park on the northern side.
Stage One - Queen Street from Fitzherbert Road to Anzac Way
Stage Four & Five - Public space in front of the Wainuiomata Community Hub and Community Hall
Stage Two - Intersection of Queen Street and Te Ara Raukura
Stage Three - Queen Street from Wainuiomata Road intersection to Te Ara Raukura intersection
Due to Covid-19 delays and unexpected construction issues work began on different sites across Queen St at the same time.
Development Plan Completed (2016)
Design Team Engaged (November 2020)
Workshops held with the community (November 2020)
Engagement on initial design (April-May 2021)
Concept design approved by Hutt City Council (14 July 2021)
Surveying completed (July 2021)
Detailed Design for Stage One Complete (December 2021)
Lead Contractor Appointed (January 2022)
Stage One Begins (April 2022 - June 2022)
Water Main Renewal added to project scope (August 2022)
Stage Two and Three (June 2022 - November 2022)
Stage Four (September 2022 - December 2022)
Wainuiomata Town Centre Upgrade Completed (January 2023, pending delays)
---
Artist impressions
---
Project News
Guiding Principles
The guiding principles were developed following consultation and engagement with the community throughout 2020-2021.
Making a civic heart
Attracting diversity
Providing reasons to linger
Greening the town centre
Connecting with waterways and off-road trails
Showcasing conservation and recreation opportunities
Improving access
Raising visibility
Integrating different components
Investing in high-quality materials
Favouring simplicity, flexibility and resilience
Looking for synergy among projects
Improving existing frontages
Introducing new street-facing accommodation
Hosting a programme of events
Future-proofing for different transport options
Planning for smaller blocks
Encouraging intensification
Telling local stories
Providing venues for performances and installations
Acknowledging the town centre's origins
---
---