Latest update: Wednesday 8 March
EASTERN HUTT ROAD UPDATE
We're continuing to work on Eastern Hutt Road and the nearby hillside to improve safety and guard against future hazards.
This week we will have a display in Kōraunui Stokes Valley Community Hub (184 Stokes Valley Road) as an additional way for you to stay up to date. Feel free to pop down and have a chat with our hub staff.

Once we have designs of engineering works, they will be available in the hub as well as online, we will let you know once these are ready.

We're also very pleased to advise that we have secured $8M as part of the Government's Better Off Fund. This provides a critical boost to our overall funding and will contribute, in part, to the first stage of the remediation work.

The indicative best-case commencement timelines for the three critical slip sites are provided below:
Design of the engineering works: January - March 2023
Procurement of the contractors to do the works: March - April 2023
Physical works to commence in May 2023 (approximately 6 to 8 months per site, opportunity to complete in parallel)
Containers removed; road fully open after works have completed and monitoring is in place.
After completion of the physical works, the containers on Eastern Hutt Road can be removed and the road will be reopened to four lanes. We will keep you informed of the planned works and timing of road closures and continue to publish our e-newsletter and update website content.
We appreciate your understanding as we continue to work on improving the safety of the road.
Indicative Timeline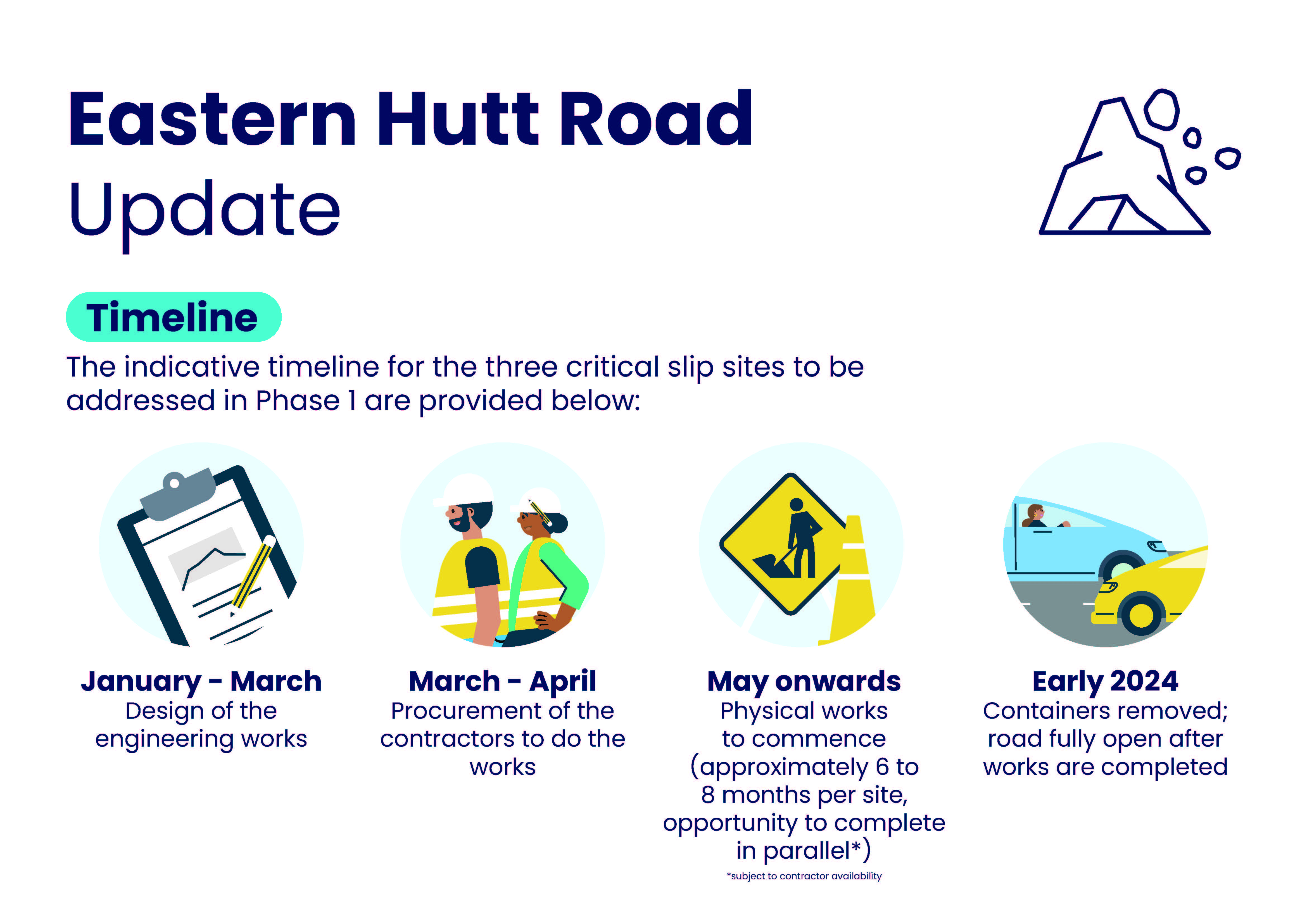 Slip Locations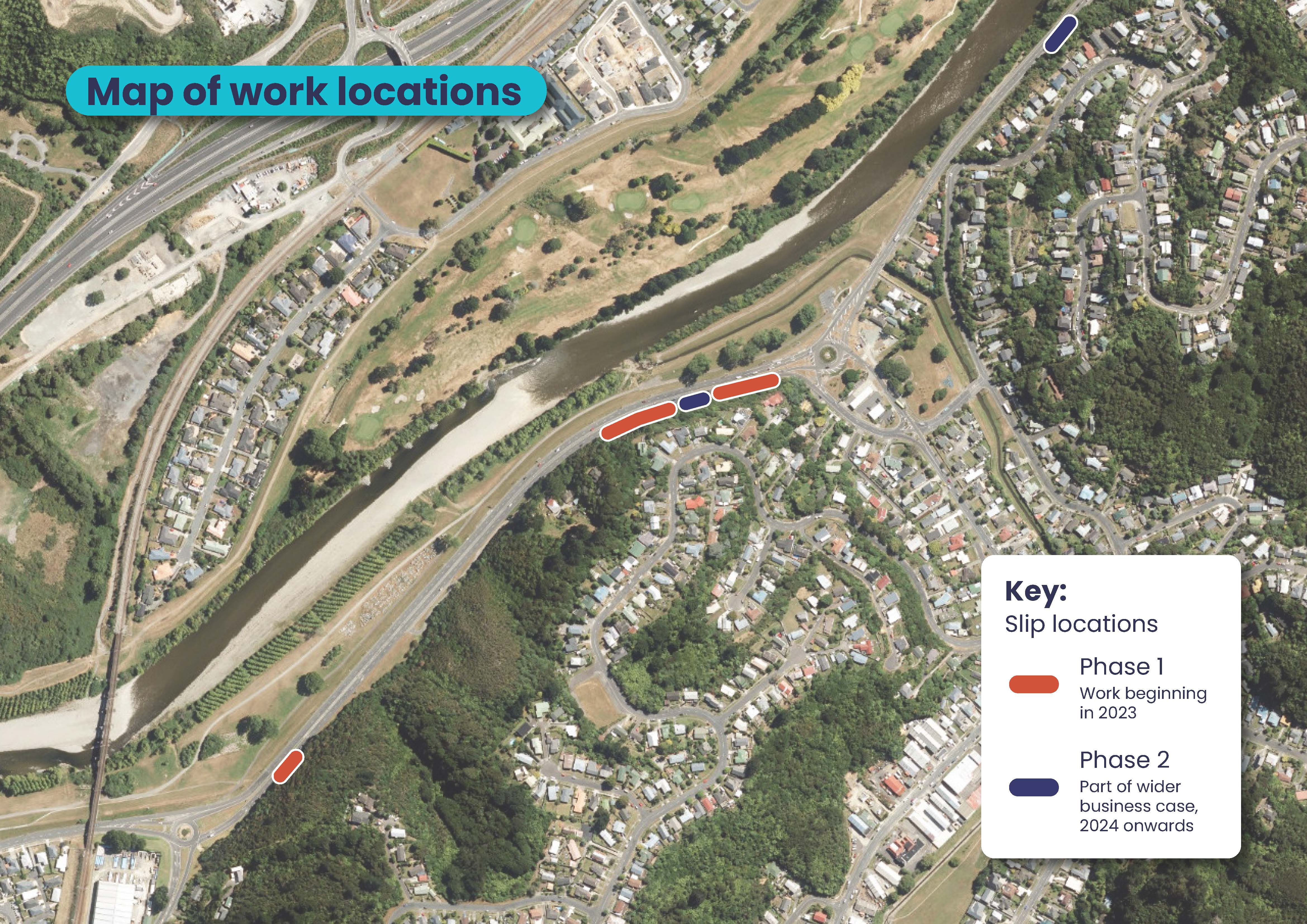 Road Layout - South of the Stokes Valley roundabout
The layout for the Stokes Valley roundabout and Eastern Hutt Road is shown below: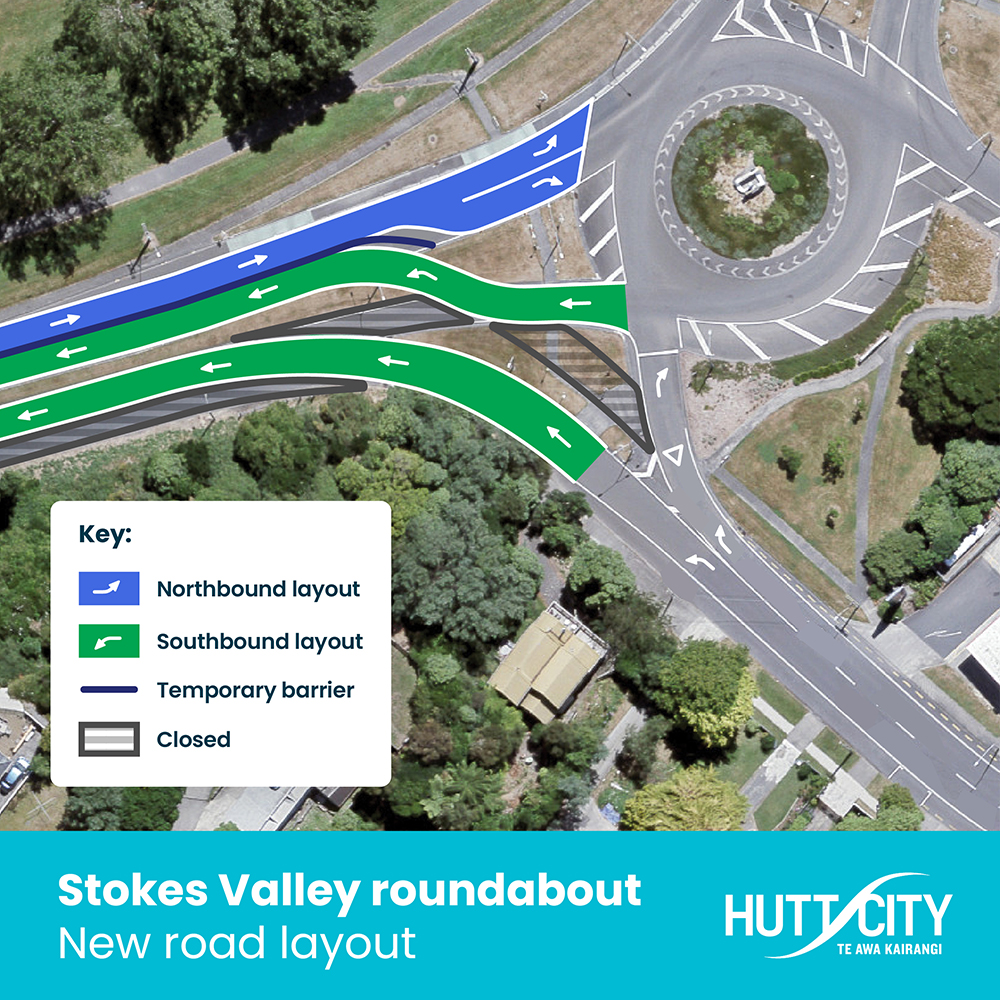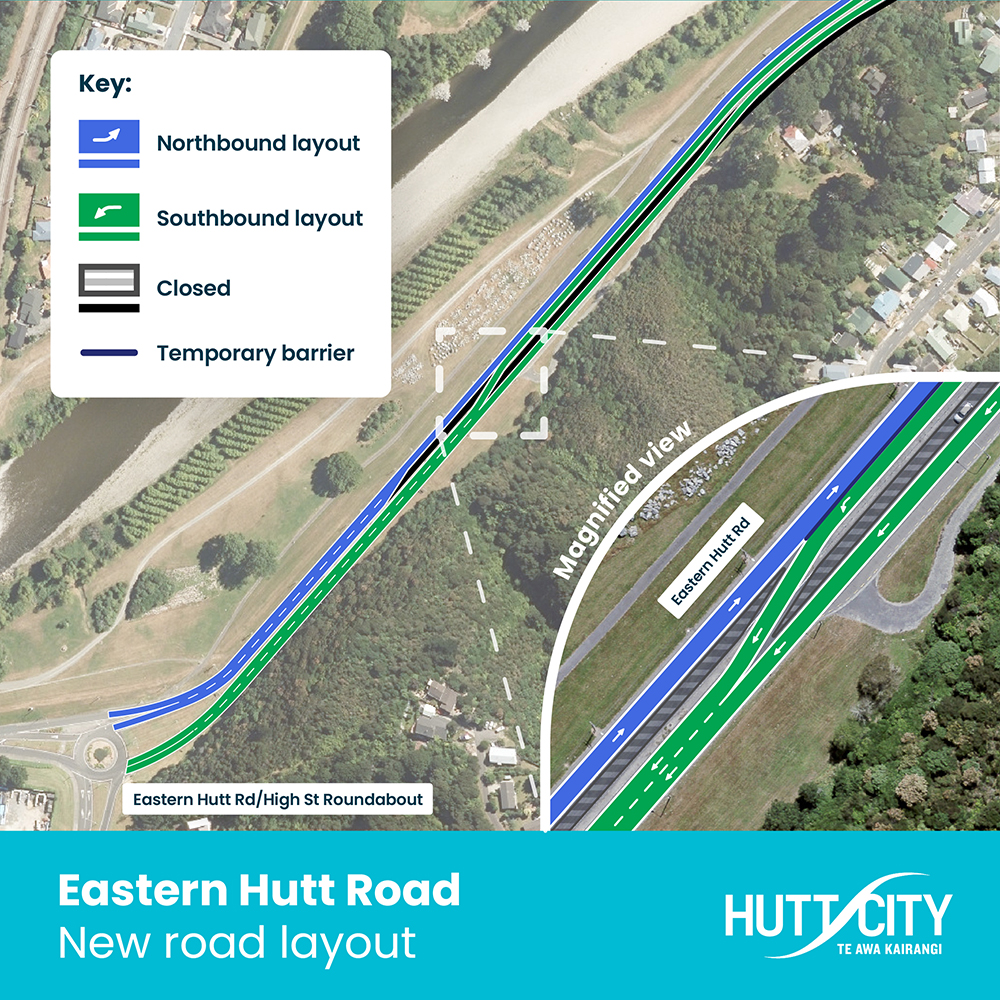 For safety reasons, the temporary speed limit of 30km/hr will remain along Eastern Hutt Road. This will be monitored and any changes advised.
Some sections of the lane closest to the slip are needed for containers and concrete barriers. These sections will continue to be closed for some time as we work on a permanent solution to the slips. This includes ongoing liaison with property owners in the area.
FURTHER INFORMATION
On Thursday 4 August we hosted a community meeting at the Koraunui Stokes Valley Community Hub to provide an update on the work we have been doing and to hear from our residents. A recording of the meeting can be viewed below
(Note: captions for this video can be viewed by clicking on 'CC/Subtitles' icon in the bottom right corner of the video)
---
---
Want to be notified when updates are available regarding Eastern Hutt Road?
Please send your name, email address, mobile number and mailing address to ehrupdate@huttcity.govt.nz to join our distribution list and receive updates.
We collect your details so that we can send you updates relating to the Eastern Hutt Road slip (these are most likely to come via email but could be through other forms of contact should you wish to provide further details). Providing this information is optional. If you choose not to provide your details, we'll be unable to notify you that an update is available. You can also go to hutt.city/EHRupdate or visit the Kōraunui Stokes Valley Community Hub for updates. You have the right to ask for a copy of any personal information we hold about you, and to ask for it to be corrected if you think it is wrong. If you'd like to ask for a copy of your information, or to have it corrected, please contact us at 04 570 6666, contact@huttcity.govt.nz or come in and see us at 30 Laings Road, Lower Hutt.